FLIGHT SIMULATOR
SIMULATOR FLIGHT TRAINING
The benefits of simulator flight training:

20 hours of the instrument rating can be completed in the simulator.

50 hours of the Commercial Pilot certificate can be completed in the simulator.

25 hours of the Airline Transport Pilot certificate can be completed in the simulator.

9 out of 10 requirements for an Instrument Proficiency Check can be completed in simulator

FEATURES: - Configurations for:

Cirrus SR22 (Avidyne and Perspective avionics configurations)

Cessna 172 (King KLN94 and Garmin G1000 avionics configurations)

Columbia configurations.

Full motion platform.

Wrap around visuals.

Fully enclosed flight deck.

Available for Rental at $149 per hour.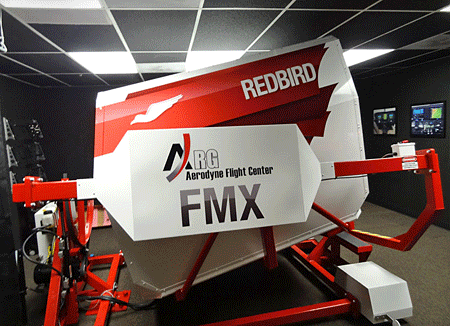 WHY AERODYNE?
Why train with Aerodyne in their Flight Simulator?

Saves money - One hour in Aerodyne's simulator equates to about three hours in an aircraft.

More efficient - Valuable time isn't spent in taxiing out or waiting for an ATC release.

Safer - Aviation insurance underwriters mandate that as much training as possible be taken out of the aircraft and put into flight training devices.

Less intimidating - The instructor can "freeze" the simulator and discuss the situation with you, or even back up a few miles and let you try again.

Comfortable environment - Temperature and humidity are controlled. There is less noise in the simulator, allowing for more effective communication between the student and instructor.

Broadens scope - Pilots gain first-hand experience with navigation facilities that are not available locally. This means you can take off in Denver and land in Los Angeles while sitting in a simulator in Scottsdale!


AS SEEN ON FOX 10
Here you can view an episode on Fox TV 10 with the Cory McCloskey Flies on Aerodyne's Redbird Flight Simulator! Aired in Scottsdale, AZ. - Click image to View
REAL-WORLD CHALLENGES
Addresses real-world challenges - Total flight immersion is " task loaded" with turbulence, ATC changes, system failures and emergencies. In-flight failures of systems and instruments can be created as the failure would occur in the airplane. We can simulate conditions such as ice, electrical failures, and turbulence or 15-knot crosswinds.

Flight Training | Sales | Training Rentals